"
For the ones who've found their way home
"

—Dedication
A Conjuring of Light is an adult fantasy book by V. E. Schwab. It is the third and final installment of the Shades of Magic trilogy.
Synopsis
[
]
Witness the fate of beloved heroes—and enemies.
THE BALANCE OF POWER HAS FINALLY TIPPED...
The precarious equilibrium among four Londons has reached its breaking point. Once brimming with the red vivacity of magic, darkness casts a shadow over the Maresh Empire, leaving a space for another London to rise.
WHO WILL CRUMBLE?
Kell—once assumed to be the last surviving Antari—begins to waver under the pressure of competing loyalties. And in the wake of tragedy, can Arnes survive?
WHO WILL RISE?
Lila Bard, once a commonplace—but never common—thief, has survived and flourished through a series of magical trials. But now she must learn to control the magic, before it bleeds her dry. Meanwhile, the disgraced Captain Alucard Emery of the Night Spire collects his crew, attempting a race against time to acquire the impossible.
WHO WILL TAKE CONTROL?
And an ancient enemy returns to claim a crown while a fallen hero tries to save a world in decay.
Plot
[
]
Part I: World in Ruin
[
]
Part II: City in Shadow
[
]
Part III: Fall or Fight
[
]
Part IV: Weapons at Hand
[
]
Part V: Ash and Atonement
[
]
Part VI: Execution
[
]
Part VII: Setting Sail
[
]
Part VIII: Uncharted Waters
[
]
Part IX: Trouble
[
]
Part X: Blood and Binding
[
]
Part XI: Death at Sea
[
]
Part XII: Betrayal
[
]
Part XIII: A King's Place
[
]
Part XIV: Antari

[

]
Part XV: Anoshe

[

]
Characters
[
]
Spoiler warning
:
This section contains plot details and spoilers.
(Skip section)
Red London
[
]
Grey London
[
]
White London
[
]
Holland Vosijk — The Antari King of Makt. Osaron has currently taken over his body.
Osaron — The sentient magic which brought about Black London's fall and now tries to take over Red London.
Ojka — The messenger. Ojka is an "Antari," artificially created with Osaron's power.
Collector's Edition
[
]
Main article: A Conjuring of Light (Collector's Edition)
On October 8, 2019, a special collector's edition of A Conjuring of Light was released.
Gallery
[
]
Trivia
[
]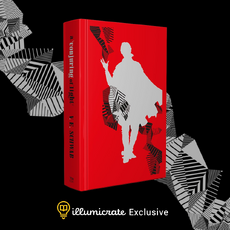 In the original version of the rooftop scene, more than half the characters were killed.[1] This scene also used to be the original ending of A Gathering of Shadows.[2]
In February 2021, Illumicrate announced special editions of A Conjuring of Light and A Gathering of Shadows which matched with the special edition of A Darker Shade of Magic they released a year prior.[3][4]
References
[
]